Medium coarse graphite
At present, the company's products mainly have four series:
First, various specifications of ordinary power, high power, quasi-ultra-high power, ultra-high power graphite electrode and oxidation resistant impregnated graphite electrode for smelting;
Second, crude graphite in new carbon materials with excellent chemical corrosion resistance, excellent oxidation resistance and high temperature stability;
Third, various specifications of isotropic high-density, high-strength, high-purity graphite;
Fourth, all kinds of non-standard graphite products for graphite chemical equipment and machinery manufacturing, all kinds of special-shaped carbon products and graphite processing products.
Product Introduction
Brief introduction to produpts
The maximum grain size of our extruded graphite is 0.5mm &0.8mm. With advanced technology and our own experiences, we become the first one in China to use extrusion technology to develop this new carbon material. The structure and technical data of our product is completely diffetrent from vibration and molded graphite,and its specification has reached the international advanced level of extruded graphite.
Extruded graphrte has better properties compared with ordinary graphite, like suitable electric resistivity,homogeneous structure, chemical corrosion resistance, antioxidant properties, high temperature stability. It could work in various harsh environment of high temperature and maintain the desired mechanical strength.
Available sizes:
Rods: dia.169-500x Max.2600mm
Blocks:400 x 400 x Max.2400mm, 500 x 300 x Max.2400mm
Customized machined components
Typical physical properties for (graphite products)
Product Mumber

RG-05A

RG-05B

RG-08A

RG-08A

Maximun grain size mm

0.5

0.5

0.8

0.8

Bulk density g/cm³

1.73

1.66

1.73

1.66

Electrical Resistivity uΩ.m

8

8

8

8

Flexural strength Mpa

23

18

22

16

Compressive Strength Mpa

38

35

35

30

Elastic modulus Gpa

13

12

13

11

Thermal expansion coefficient 10-6/℃ C.T.E.(To 600℃)

2.5

2.5

2.5

2.5

Porosity%

22

24

22

24

Shore hardness HS

33

30

33

30

Thermal conductivity W/mK

140-200

Ash

Max.2000 PPM, after purification can be max.50PPM
  Note:The above figures are tipical Values and are not guaranteed Values
Typical physical properties for (Carbon Proucts)
Product Mumber

RG-05AT

RG-05BT

Bulk density g/cm³

1.75

1.70

Electrical Resistivity uΩ.m

35

35

Flexural strength Mpa

35

30

Compressive Strength Mpa

70

70

Thermal expansion coefficient 10-6/℃ C.T.E.(To 600℃)

2.6

2.6

Porosity%

22

22

Shore hardness HS

85

75

Impact toughness(J/cm²)

0.14
Prodution process flow chart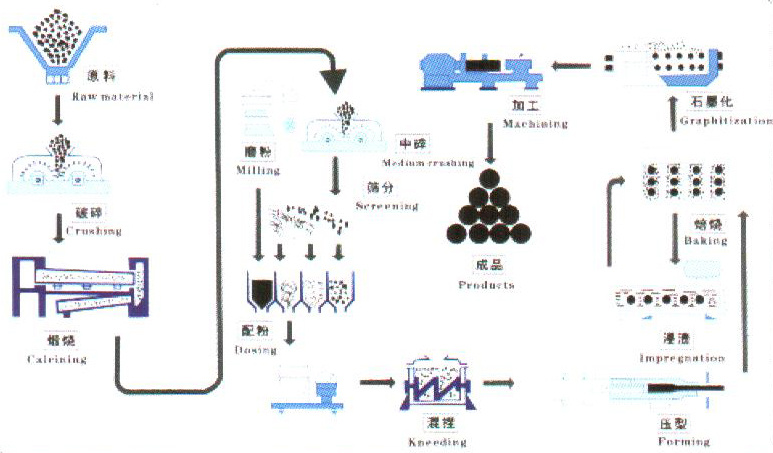 Keywords: Medium coarse graphite